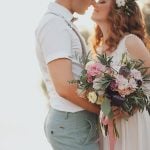 If you are going to get married soon, you must have been researching up and coming wedding trends. Deciding the right color scheme for your big day can be nerve-raking. Here is a handy guide that goes over the top wedding trends for you to get ideas from.
Green and Dusty Rose:
As compared to pink this color theme proves to be a more convenient in all aspects. The colors are soft and wearable by everyone. The bridesmaids may find the pink color not very attractive to be dressed in. but dusty rose is such a soft color that every girl likes to dress up in it. The color scheme also goes with the venue decoration. You can get the chairs and tables dressed in dusty pink and/or green runners and drapes. Flowers can be easily available in both colors. The possibilities of decoration and dressing can be endless with this option.
White and lilac
This option has been trending a lot lately The scheme is much more than just purple. Lilac and white gives a fresh and decent look to the venue. Invitations, decor, tablecloth chair drapes in this scheme come together to give your venue a nice mystic look.
Deep Red & Blue
If you are not a big fan of soft and light colors, this theme is perfect for you. You may think this color scheme is for fall and winters only, but that's not the case. This scheme is suitable for all seasons. You can contrast deep red with different tones of blue to suit your desire.
Black & white with Gold:
Black and white is popular theme. But a touch of gold can make it look even better. Bridesmaids love wearing black dresses. A white table cloth with a black and white striped runner on top of that golden cutlery can make your guest go "wow". You may think that gold is a difficult color to get the entire wedding rentals in. but you need not to worry. Rental providers like Shore Tents & Events are there to help with fulfilling all your desires regarding your wedding day. They provide the widest range of cheap chair and table rentals near me.
Champaign & wine
Don't be surprised, I am not going off topic. I am going to talk about  a Champaign gold and red wine color scheme. How charming is it to look if you have Champaign gold tablecloth on the table with dark red flower arrangements on top? Bridesmaids dressed in Champaign Gold dresses, having beautiful red bouquets in their hands would look lovely. Even the groom has a lot to do with this theme.
We hope you got some great ideas after reading these ideas for your own wedding. The color and decoration possibilities are endless.
Affordability
We're more affordable than you think. That's why we offer pricing packages that suits clients of all budgets.
Speed & Reliability
We're proud to offer on-time deliveries for all clients no matter where the event is happening. Learn more About Us.
Experience
Our team has over 17 years of experience in the tent and party rental industry. Learn more About Us.